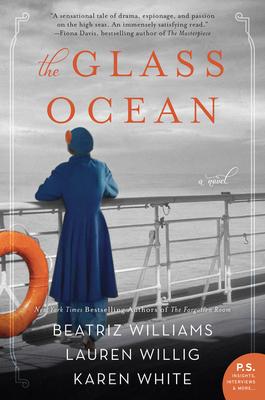 Given my love of history, especially old ships such as the Titanic, that this was a must have for me, was not a surprise.
Written by the powerhouse authors that are Lauren Willig, Beatriz Williams and Karen White this is a dual timeline novel set both in 1915 and 2013.
The first scene of the book contains a brilliant shout out to those that download novels without paying for them. This was, apparently, based on a true scenario.
The story follows three very different people, two sailing on the Lusitania and one discovering secrets about her family because she (and what did I say about opening mysterious boxes without permission?) opened a chest that belonged to her Grandfather.
Our box opener is Sarah, a struggling author who is desperate to find her next novel. Her Grandmother, suffering from Alzheimer's, has begged Sarah to never open said box. (apparently someone didn't put on their listening ears) But, she does anyway and discovers a familial tie to the sinking of the Lusitania. Sarah decides to travel to England to find out what her family's tie to the sinking is.
Meanwhile in our dual timeline it is 1915 where the Lusitania is slowly steaming towards its fateful meeting with a German U-boat.
There we meet two women, Caroline and Tess. Caroline is hoping the change of scenery and the togetherness that the Lusitania is providing will reignite her marriage. It is in crisis with her husband growing distant and hard to reach. While she hopes to find the spark her marriage had in the beginning she is also torn between her feelings for a friend who, by chance, is also on the fateful voyage.
We also meet Tess, a conwoman, who has begged, borrowed, or stolen to her heart's desire with her conman boyfriend. Tess, who is not her real name, has finally had enough of the conman lifestyle. Though her boyfriend promises this is their last job she isn't so sure.
As the Lusitania steams toward its historic dance with history, the story culminates in a stunning conclusion.